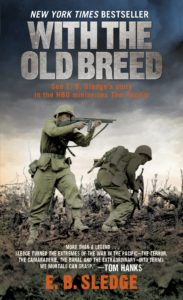 I recently read through With the Old Breed by Eugene Sledge. Published in 1981, Sledge takes us through his experiences as a Marine in World War 2. Sledge enlisted in the Marines in 1943 and trained as a mortarman, assigned to K/3/5 (K Company, 3rd Battalion, 5th Regiment), in the 1st Marine Division. He landed on the island of Peleliu, a controversial and probably unnecessary battle in late 1944, and then on Okinawa in 1945.
Sledge's writing is not to provide details of tactics, but to convey the experience of warfare as he recorded it. And he saw a lot of combat. Peleliu and Okinawa were both horrendous fights: the Japanese used defense in depth tactics to prolong each battle into months long campaigns. Terrain and weather (coral reef and extreme heat on Peleliu, mud and torrential rain on Okinawa) were as much as factor as enemy actions. Even friendly units and superior officers had to be dealt with.
As a young Marine, Sledge looked to the 'Old Breed', the veterans of Guadalcanal (and in some cases, World War 1) who made up the sergeants of the company. To those just fresh out of training camps in the US, their seniors seemed like men from a different era; their confidence and experience helped prepare the newcomers who were afraid of getting killed or, worse, showing cowardice.
Sledge braves his first combat on Peleliu, experiencing friendly fire, loss of friends, and extreme thirst. Across the coral rocks and into the heights of the island, K/3/5 sees a lot of combat, and Sledge takes the reader with them.
Sledge doesn't try to elevate the Marines to mythical status; he writes to show the conditions the Marines fought in, down to the terrible details that soldiers often gloss over in their narratives. He describes the first time he sees a dead soldier, and what it's like to suffer from an artillery barrage the goes on for what feels like ever. For Sledge, it's about showing the reader what the Marines went through and discussing why they survived.
By the time Sledge lands on Okinawa, he is a veteran. The landing feels different for him: he's seen combat, so he knows he won't run; there's just the fear of death and letting his comrades down. Even so, he still experiences and describes the depths that battle on Okinawa went to. The harsh rain and difficulty not only supplying troops but removing the dead turns the battlefield into one reminiscent of trench warfare of World War 1.
Sledge is sparing in his judgment; he does not condemn men who break under bombardment or fall victim to sickness. When he speaks of army soldiers, he does so with respect (they all march into the same combat). Those he does judge are those who act foolishly, such as rear echelon soldiers who come up to grab souvenirs, or orders from on high that feel like a waste of time but must be followed.
Finally finishing the Okinawa operations, Sledge describes pulling back and beginning the process of refitting and preparing for the next assault when word comes of the end of the war. The anticipated (and feared) invasion of Japan would not happen. Instead, Sledge and the marines will face some time as occupiers in China, helping maintain order as the Japanese pull out of that country (described in Sledge's second book, China Marine). But they will be returning home alive.
Overall, I enjoyed the book. It is a simple retelling of a man's experiences of battles most often viewed from much higher up the chain of command. It made no effort to idealize either friend or foe, but told the story of what was. And that's all it really needed to be.
Recommended: To learn about the conditions and the mindset of a World War 2 combat Marine.
Not Recommended: If you get squeamish about injuries, death and decay.