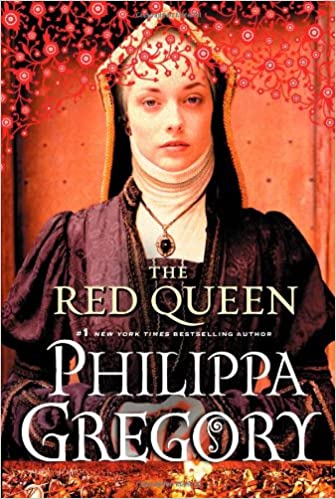 The Red Queen (2010) by Philippa Gregory is the third book in her Plantagenet and Tudor series. It follows the life of Margaret Beaufort, a staunch Lancaster supporter and mother of the first Tudor king, Henry VII, from the Spring of 1453 to the summer of 1485.
I liked this book, much as I did the rest of the series so far. But what I found fascinating about this story is how the character stays the same, yet somehow goes from sympathetic young woman to Machiavellian plotter.
Pious Margaret
The Margaret Beaufort we meet is a young child who believes she has been destined for greatness as the English counterpart to Joan of Arc. But as a descendant of King Edward III, her children would have political value. Thus, her belief in her divine destiny was ignored, in favor of marrying her young (only 12) to bear her only child at 13 in a painful labor, made more horrific by her mother's assertion that the child was worth more than she was, particularly if it was a boy.
Between the world ignoring her views and the horrible experience with childbirth, the first portion of the book left me with great sorrow and compassion for this young woman. Alone, with no real support, and no real say in her future, I found myself rooting for her to grasp and claw any ounce of authority or control over her life. And after some time, she's able to do so, and I think, 'great, now she has control of her life. Now she can have one.'
Zealous Margaret
Alas, denied the life she believed ordained to her by God, she comes to believe her destiny is to be mother to a king of England. In the war of Lancaster versus York, Margaret begins plotting for the safety and eventual ascendancy of her son, Henry Tudor.
Know the saying 'the road to hell is paved in good intentions'? This is where, at least for me, Margaret Beaufort became a villain.
As she was divinely chosen, Margaret shows little care for law or morality when it comes to advancing her son. Her second husband, Sir Henry Stafford, initially supports the Lacastrian cause but is forced to make his peace with the Yorkist King Edward IV; Margaret, however, continues to plot and scheme, sometimes to the detriment of her husband's affairs. She even chooses her third husband specifically for his shared interest in accumulating power. Together they plot to survive the wars successfully.
Favorite Scene
My favorite scene in the books comes during her third marriage, to Thomas Stanley. In it, her husband calls her out for her divine belief and how divine it may actually be.
'I am guided by God!' I protest.

'Yes, because you think God wants your son to be King of England. I don't think your God has ever advised you otherwise. You hear only what you want. He only ever commands your preferences.'

I sway as if he has hit me. 'How dare you! I have lived my life in His service!'

'He always tells you to strive for power and wealth. Are you quite sure it is not your own voice that you hear, spearing through the earthquake, wind and fire?'
What I love about this scene is how he is so perfectly encapsulates Margaret's villainous motivation, or that of anyone who believes they're special. She's God's chosen, so she can do no wrong. She is so firm in her belief that even when she does pray for guidance, she still gets the answer she wants.
This isn't a moment of eye-opening for the character; her husband continues to say that this was their agreement; she helps to promote and protect his family, he helps to promote and protect her son. He doesn't particularly care about her scheming. But it does put in strict contrast the different between pious and zealous Margaret.         
The Princes in the Tower
This book's tilt at the Princes in the Tower takes on a decidedly serious tone. Margaret conspires with Elizabeth Woodville, wife of King Edward IV (from Book 2) to raid the Tower of London and save King Edward V and his brother. But her motive is not rescue; she conspires to get her men close enough to kill the boys.
The raid fails; neither the rescuers nor assassins can get to the children. And once again, the mystery of the Princes comes in. They disappear and rumors abound. Margaret seizes on the rumors to her own ends, but the fact that she doesn't know
At this point, I'm of the mind that Gregory isn't going to answer the question in her stories of the War of the Roses. It's going to be a mystery that will be interpreted by the current character independently. Which I think is a pretty cool way to do it.
Conclusion
The Red Queen is an apt title for this book, given the main character. When I finished the book I figured she would be returning as an antagonist in future books, and sure enough she has (but more on that later). Margaret Beaufort may start as a sympathetic young woman, but by the end of the book she's spent her sympathy. I can understand why she turned out the way she did, but I can't appreciate the lengths she's willing to go to, in order to secure the future she wants.