'Red Phoenix Burning' (2016) is a book I've been looking forward to reading for a while now. Written by Larry Bond and Chris Carlson, it is a sequel to one of Bond's books, 'Red Phoenix' (1990), which is a book I've read a dozen times over the years.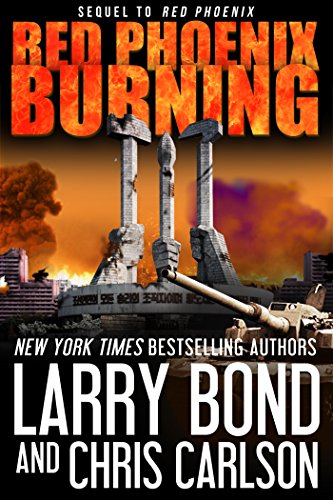 Both books deal with a war on the Korean peninsula. In Red Phoenix, it was a North Korean invasion of South Korea. In Red Phoenix Burning, it's the opposite. Early in the book, a coup attempt in North Korea sparks a civil war. That's bad enough, but the question on everyone's mind is about North Korea's WMDs: the biological, chemical and nuclear weapons North Korea has developed and hidden about the country. As the political and military situation develops, both characters within North Korea trying to survive, and characters outside of Korea trying to contain the situation, have to contend with the ramifications of the choices before them, but how other actors will respond and possible escalate. 
What's nice about revisiting this story after 25 years is running into several characters from the first book and seeing how they have matured. The young officer getting confident in his commission is now a decision maker for a general; others are now generals. The children of several characters return to influence the story in their own way. It's a connection that I can appreciate in sequels.
The book does two other things well. First – and this is something the first book did well – it captures the essence of international politics of a Korean civil war. The US and South Korea are very much worried about WMDs, but they also must worry about the Chinese and their military forces; China has its own interests and policies and will not just sit by as China is unified under an American-allied government, nor can it ignore WMDs any more than the US can. The interplay of the two, and how they influence the decision-making processes of the characters on the ground in Korea, makes up a huge chunk of the story.
Second, the book hits a lot of points of how modern technology is used in warfare. From the prevalence of drones for intelligence gathering to the use of tablets by officers to view and disseminate information, the differences between a 1980's war and a 2010's war is striking. And that doesn't take into account the differences in tanks, artillery and aircraft from book to book. It's a completely different feel of warfare.
That being said, the book does have a few let downs. Where Book 1 had a lot of combat, particularly infantry combat, but also submarine, airplane and commando actions, Book 2 has much less. With the story focusing on the politics and the interplay, Book 2 glosses over the fighting. Most of the combat that we get to read is the important things that influence the decision making; a bloody nose to get attention, an air strike to cut off an axis of advance, etc. I would go so far as to say the difference between books is due to the difference of emphasis; Book 1 needed to emphasize the grind-nature of that war, while this one is more about the higher politics and WMD hunting, so it doesn't need combat scenes to tell its story. But it's still a noticeable difference.
Still, it was overall a very enjoyable book. There was nothing that made me shake my head and think 'Oh, come on!' I found the decisions and their consequences to be believable. I'm glad I read it and look forward to reading it again someday.
Recommended: For a nice techno-thriller with a heavy strategic/political emphasis.
Not Recommended: If you're looking for non-stop action or combat heavy storytelling.