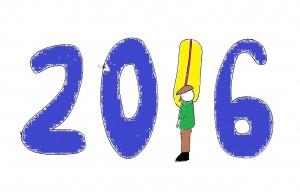 As 2016 begins, I look ahead and ask myself, as a writer and author, what do I expect to do?  What do I want to do?  I've wanted to publish for years and I constantly trip over myself.  I've got projects I revisit from time to time.  Lots of things I could do, I want to do, I should do.
So, realistically, what am I planning for 2016?
I'm planning to publish my first book.  
I'm so close, only if I give up completely will I fail to do so.  The third draft is a few chapters off from being done.  I had an editor lined up (and some options if it fell through), a company to help with publishing and promotion.  I'm researching Crowdfunding and Social Media.  And I'm staying focused.
I'm looking forward to holding a book in my hand and seeing my name on the cover.
I'm planning to finish writing a second book.
If I want to make a career as an author, I need to be able to write them faster than I have been.  Luckily I've learned a lot about myself as a writer, and I believe I can finish as least one more before next New Years.
The book I'm hoping to publish is the first half of a book I cut in half; so with so much work done on the second half, I write the second book pretty quickly.  I also have a fantasy book I've been working on that I might be able to finish.
Maybe I'll finish a third book as well?
I'm planning on reducing the projects I'm working on.
A few weeks ago I counted myself as having 17 Projects in some stage or another.  Some of them were 'hey, this could be a fun idea and I should think about it', some of them were already underway.  This year I'll figure out which ones I will focus on, and which ones I will put into storage.
Where do I want to be when 2017 starts?
I want to be a published author with at least one more book lined up and moving towards publication.