During Memorial Day weekend, I had the opportunity to have a table at Manticon 2017 in Bloomington, Minnesota.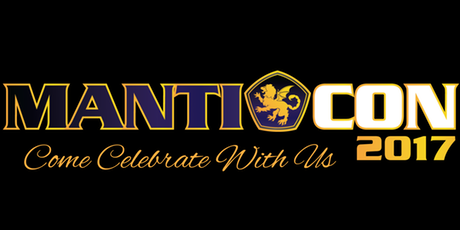 Manticon is a military sci-fi convention that draws a modest and enthusiastic crowd. Based off the Honorverse books of David Weber (of which I am an avid reader), the convention included a charity auction, panels on various topics of interest, and a game room that includes Artemis and Battletech simulators.
As this was my first fandom convention (aside from an hour spent at a very minor Star Trek con to see Leonard Nemoy and William Shatner speak in 2006), I didn't sign up for any panels or games. I didn't sign up for anything, preferring to leave my schedule open, as I didn't know what to expect. The woman who got me into the convention asked me to make two cheesecakes for the con-suite, which I did (salted caramel and peanut butter cup). There were no leftovers.
My Table at Manticon
My table was a simple affair, particularly on the first day where it was only my book displays and a pile of business cards. After talking it over with two fellow authors at the convention, I added a hand-traced map of the Kingdom of North Mississippi and a newsletter sign up page.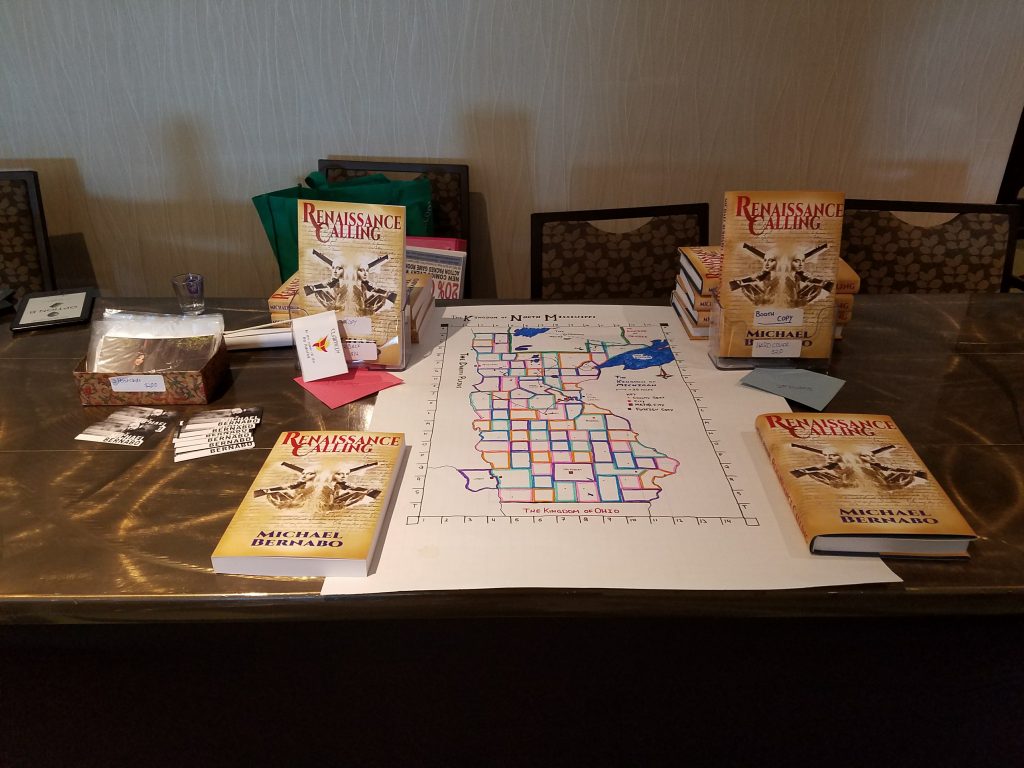 Yes, it was not particularly flashy, but without knowing what a convention table was like, I didn't know what sort of stuff to invest in. Luckily, the other two authors with their tables in the same area were willing to give me some advice on what to do at future cons.
As for location, well, it was pretty much in the middle. It was right in front of the elevator bank, between the panel rooms and the main / vendor rooms. Pretty much everyone going to the convention at some point passed my table, usually many times. I got a lot of people stopping by to talk with me and look over my book. It was quite nice to get such a warm reception.
Being At Manticon
I admit I was a bit apprehensive about being in a public place for so long while trying to get people interested enough in my book to buy it from me. I'm a bit of an introvert (maybe more than a bit), and I've never been a particularly good salesperson.
That being said, I have been feeling rather confident lately. And I read a few 'how to do X as an extrovert' books, which mostly boiled down to be comfortable and don't try to be something you're not. So I put out my display and engaged people who stopped to take a look.
As I mentioned above, the people gave me a warm reception. A lot of people stopped by to learn about me and my book, and I conversed in kind. I had an hour-long conversation with one young woman about storytelling in media, including some shared video game experiences and the advantages that the Star Trek Animated Series had in its stories. Some people were genuinely intrigued by my concept and excited to buy my book.
The Manticon patrons wore uniforms, ranging from technician jump suits to resplendent admiral's uniforms. They came in from all over the world: I spoke with someone who flew in from Scotland, and there was a group from an Eastern European country that I didn't meet but heard them conversing.
I did not attend any panels or join in the simulator games. This was my first convention, so I decided to ease into it and I did not want to over-schedule myself. I was there to be an author and do the author thing.
And it went well. I missed my sales goal by one, and ran out of business cards. Totally calling it a win.
Beyond the Convention
I spent the days at the table, but the nights hanging out with the patrons.
The convention rented out a number of rooms (maybe an entire floor, I'm not sure) for their post convention parties. Consuite had food and a assortment of drinks themed off the books. There was Marine Country, where the Marine fans congregated with their own bar (visited by Dale Dye, who stole the show). There was a Scotch room (which I visited) and a Klingon room (which I didn't get around to).
I got to speaking to a few people (again hanging out with Dale Dye a bit), relaxing to the point where I could enjoy myself. I had stop drinking early, since I had to drive across the cities to get home, but it was definitely a good party atmosphere. Next time I'll see if I can't get a room to avoid an hour of transit every day.
Lessons for Future Conventions
The first lesson is I'm going to admit is; I need a flashier set up. It doesn't have to be over-the-top, but enough to catch people's attention. I've got some ideas, but I haven't ordered anything yet. I'm waiting a week to go over my brainstorming list and see what makes it through round two.
Second lesson: get on a panel or two. One of the other authors at the event had two, and he said he had some good discussions with patrons about his topics. Next time, I'll see what is available.
Third: get a room there if feasible. Not only can I remain longer in the evening, I can avoid a long morning commute.
Conclusion
Did I have fun? Absolutely.
Did I meet some cool people? I did. In addition to Dale Dye, I got David Weber to sign two books. I met a group of people I'm excited to join. And I got to  see people get excited by my book.
Am I looking forward to future cons? I am. I don't know when the next one is, but I'll let you know when I have future appearances scheduled.
For now, I'm concentrating on Book 2. Maybe I can have it ready by Manticon 2018.
Thanks for reading!
-Michael